If you follow me on Twitter, you may have heard me tweet a few things about More Love Letters. If you've been to my blog, you may have seen this pretty little badge go up in my sidebar: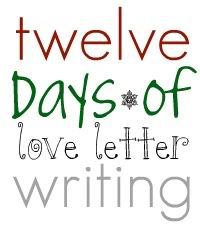 So, what's all this love letter business about? That's probably what you're asking, because I'd be a little curious, too.
It started with a girl named Hannah and her
amazing blog
, of which I'm an avid reader. I'm mostly a silent fangirl, in awe of her way with words so much so that I couldn't compose many comments other than 'wow, that was amazing.' Hannah eventually went on to launch a project and website called
More Love Letters
. As you may expect, it's all about spreading the love by writing love letters to strangers and leaving them in random places, or sharing love letters on the blog to cheer up the random reader.
This holiday season, the 12 Days of Love Letters was born. A little more back story: on the website, you can sign up for a monthly love-letter-writing campaign. You'll get an e-mail with a brief description of who's receiving that month's bundle and an invitation to write and send off a love note.
The 12 Days of Love Letters is a twelve-day, letter-writing marathon version of the monthly bundles. For the past ten days, a new recipient has been revealed each day, and we've got two more to go (including today's). Via the e-mail list, I signed up specifically for two days, but have found myself writing nearly every day.
It's a little late in the game, but if this sounds really wonderful to you, all of the recipients are still up on the
moreloveletters.com blog
- just scroll through the posts and you'll find one through eleven. Grab some stationary and a pen and write to one, three, or
all
of the people in need of a little love this season.