Seeing as it's now July, which is smack-dab in the middle of summer, I figured it was high time to share a sundress for this month. This dress was purchased at the beginning of the summer from
Forever 21
and to be honest, it's actually a little too short for me. I usually pair it with black leggings, but I love to wear it around the house without them.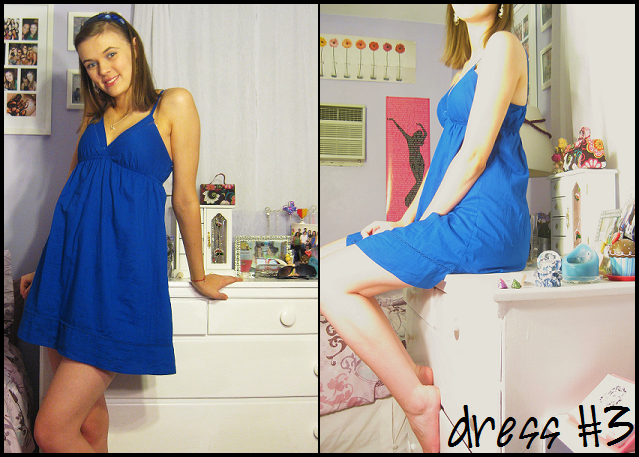 It's very simple, but that's what I love about it. I'm usually drawn to dresses that are multicolored or have loud patterns so my wardrobe was aching for a basic, solid-colored sundress. The bright royal blue color really brings out my eyes, something that always nudges me a little more to buy a dress or a top. I instantly fell in love with this when I saw it - I just wish it was a
little
bit longer so that I wasn't in danger of flashing everyone if I'm not careful.
So now I'm at the halfway point of Six Months, Six Dresses and I have to say, I ended up purchasing more dresses than originally planned. The sad part is that it wasn't even for the sake of this project - I just developed a serious dress addiction that I'm still struggling to contain. That just means I have even more to pick from for the next three months!

{This post is part of a series called
Six Months, Six Dresses
dreamed up by the ever-lovely and inspiring Kyla Roma. I'm actually straying a bit from her idea by including dresses I already own and starting in May instead of April. If you wanna get in on the fun, click the banner above and join us!}