As I was crafting my Christmas(/birthday) wish list this year, I realized I was dreaming pretty big. Usually I don't want too much and all of it is moderately priced. Sure, there are always a few "reach" items - ones I don't expect but would be nice to have - but this time around those items seem to comprise my entire list. So, what do I want?
(or any eReader, basically)
This is new for me, because I barely even read as it is. My thought process is that having an eReader will make it faster and easier for me to acquire and read books. This thought process could be completely incorrect, but I still want it.
Ridiculously adorable MacBook decor
(will accept any combination of pink, Hello Kitty, glitter, and/or Disney)
I found most of these things before I had a MacBook or even thought I would ever purchase a MacBook. So to say I want them is a total understatement. Of course I've been dreaming of having a MacBook decked out in a cute cover or decal with a colored keyboard since I knew it existed. Because that's the kind of person I am. You should know this already.
(in pink, obviously)
My face is not my friend. I rarely have actual acne (read: zits) any more, but my pores are always clogged. I go back and forth on this one because I don't know what will solve the problem and this seems a bit expensive (yes, even for a gift) for something that might not even work.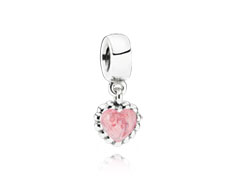 Various Pandora charms for my bracelet
This one's a given and I will likely receive this exact charm. Why? You can build a wish list directly on the website and send it out. This is at the top of the list and Erik is the kind of person who would pick the first one (or two) without bothering to look at the rest. (Now that I've said this, watch me end up eating my words when he picks another one.)
There are other little things I would also love to get, like all of those cute food-related gifts from Target (like the set of hot chocolate with awesome flavors or the popcorn tin!), nail polish, and money to spend on iTunes. In general, though, I tend to like surprises a lot more because I love when people find things they know I'll love without having a list to go off of.
What do you want for Christmas? Anything big?