My dress for August was one I purchased under the assumption that I would be attending a wedding this month. When the "save the date" was sent, it was addressed to our whole family; naturally, we figured we'd all be invited, shocking as that was (considering it was my second cousin getting married). Turns out that only the adults were invited, likely because they're cousins and were close, whereas the "kids" are mostly unacquainted with each other.
Regardless, the day of the wedding came and after my parents left, I decided to dress up anyway and still use it as my August dress.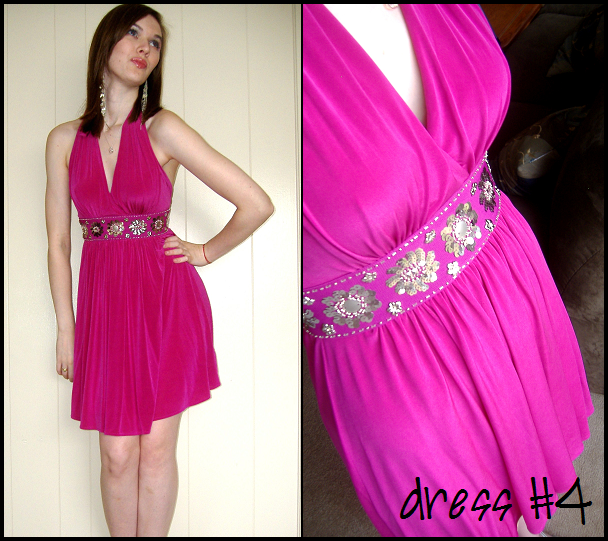 It's from the selection of prom dresses that
Forever 21
came out with this year, though it's definitely not prom style, in my opinion. I like it because it's dressy without being overbearing… also, because it's pink and has sequins. I figured it would be the perfect dress for a wedding, but could also work for any banquet or even a fancy night out with friends.
The only frustrating thing about buying this dress is that after I spent $40 on it, a couple of months later it went on clearance for under $20. I was so peeved, you have no idea.
Still, I love it and am looking forward to having an occasion to wear it.
{This post is part of a series called
Six Months, Six Dresses
dreamed up by the ever-lovely and inspiring Kyla Roma. I'm actually straying a bit from her idea by including dresses I already own and starting in May instead of April. If you wanna get in on the fun, click the banner above and join us!}