I seem to have a bad habit of missing out on every other week of
Pink Saturday
. But have no fear! I'm back again and hope to really keep participating weekly.
No clue what I'm talking about? Check out
this post
over at
How Sweet the Sound
to find out more.
On to the
Pink Saturday
festivities!
Today's item is a simple one - a very cute wall clock that I found at Bed Bath and Beyond a few years ago.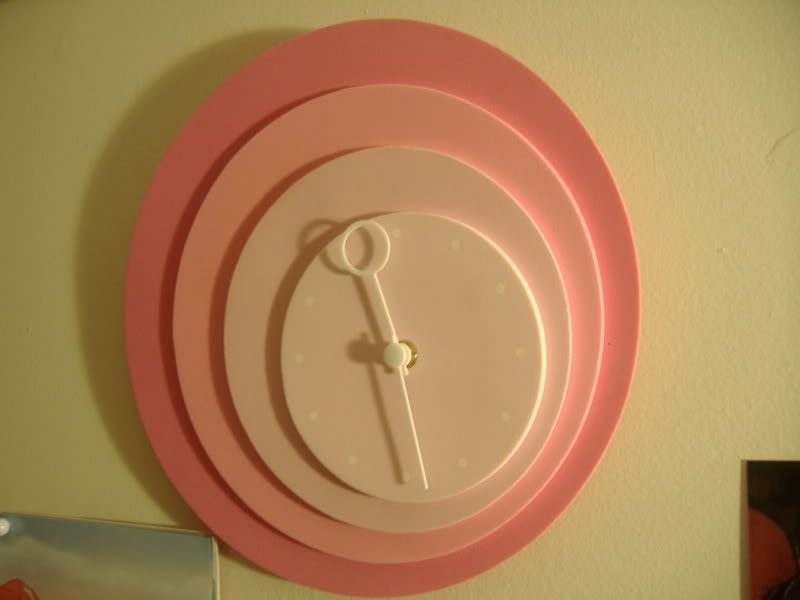 It was really inexpensive and fits perfectly with the pink theme I have going on in my room. The next couple of
Pink Saturdays
on my blog are going to feature the various pink items throughout my dorm room. There are a lot, I'm warning you now. Everyone walks into my room and goes, "oh wow.. it's so.. pink." That's me!
A couple of my friends mentioned that they're not fans of the analog clock, especially mine because it doesn't have the numbers there, just the dots. So I went a-searching online for some other cute pink clocks and found some that tickled my fancy.
Trend Lab Clock, $19.99, Target
That solves the whole number issue, making it really visible with the chocolate-brown numbers and hands. And I'm loving the polka dots!
Pink Is as Pink Does, $15.00, from Etsy user CraftedByCarol
This is just TOO adorable. I'm addicted to searching on Etsy.com because I get results for almost anything I can think of, and everything is so beautifully made.
Ladies Rado Sintra Jubile Pink Watch, Fortunoff's Pink Ribbon Shop
Considering that this blog's gone pink for October, I decided it's only fitting to include some items that are helping the cause in addition to adding more pink to your life. This watch is absolutely
gorgeous
, isn't it?
So there you have it.. hope you enjoyed your
time
here today for Pink Saturday. Thanks for stopping by and see you next time!