This past weekend was the last of my crazy tendency to plan outings on consecutive days.
My four-day weekend of madness started Thursday night. I saw Sara Bareilles, Maroon 5, and
Counting Crows
in concert. Yeah.. we headed out before Counting Crows had set up because we were tired and starving, and not willing to spend our life savings on food from the venue. Anyway. We arrived just in time to see Sara Bareilles finish her set. She sang
Gravity
, which is my absolute favorite song of hers. Then Maroon 5 came out and THEY WERE AMAZING. Adam Levine is a tasty looking man, especially when he's really sweaty. Mmmm. They really mixed up their set a lot, doing songs from their old album as well as the new one. I was happy.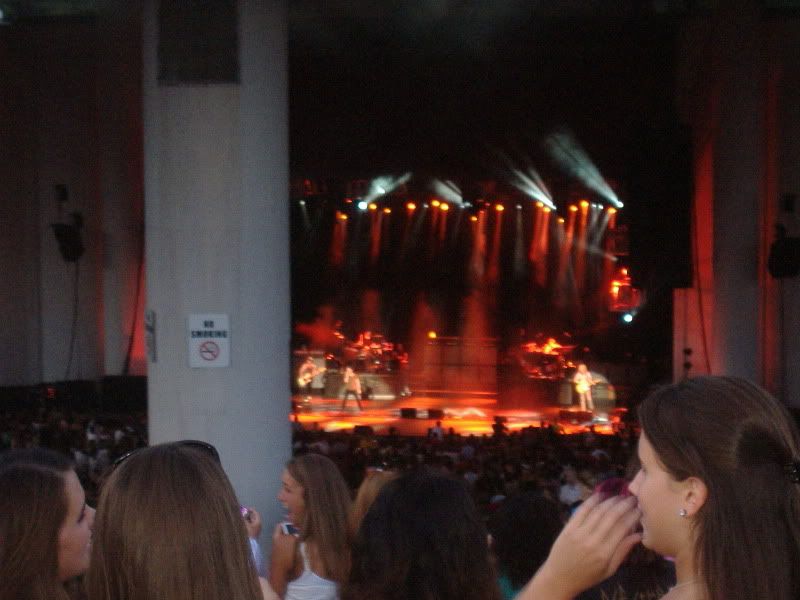 We had a pretty decent view from our lawn seats, but my camera is crap so this is the best picture I have.
The following day was spent running around like a crazy person for my friend Barb's surprise going-away party, since she's moving to Las Vegas in a mere ten days. The party was fun, but in some respects, not worth all the stress I put into it. However, she absolutely
adored
the scrapbook we made for her (that was one of the secret projects I mentioned
here
).
Saturday was little miss Isabella's third birthday party! When I went to get her gift a few weeks ago, I realized how
easy
it is to shop for little kids. All I had to do was walk into a store, look for anything covered in Disney princesses, The Little Mermaid, or Hannah Montana, and I was set. I ended up getting her a huge Disney princess coloring book, new crayons, and some Disney stickers. She got a ton of adorable clothes, which she kept throwing on the ground after opening. I forgot how boring clothes are for little kids. And of course, there was the oh-so-expected moment where Isabella and her 5-year-old cousin, Daniel, were tearing wrapping paper from a box of clothes. As soon as the paper was off, Daniel held it thoughtfully for a moment before proclaiming, "oh, it's just a box." I absolutely remember that sentiment as a child. I would look up at my parents and go,
really? A box? How thoughtful of you. Oh, there are CLOTHES inside. ...I still don't care.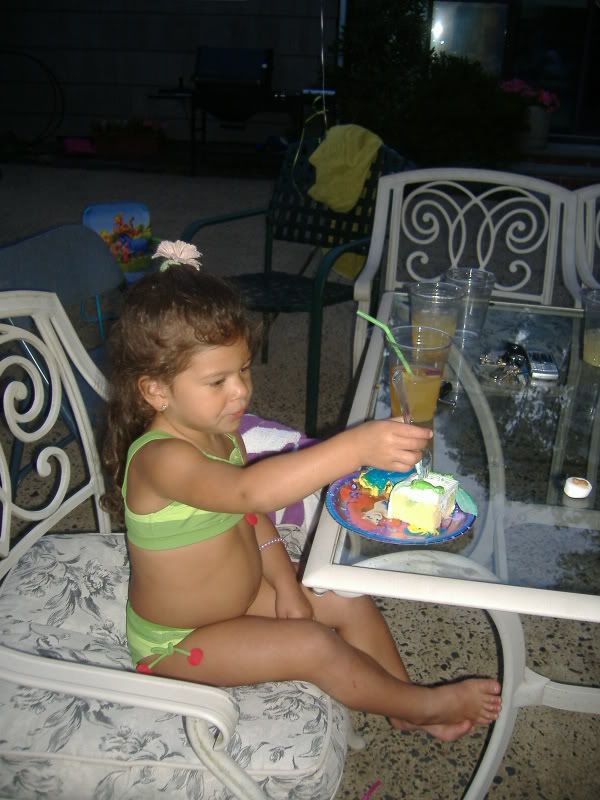 The birthday girl, eating her cake.
The birthday girl and myself with her new coloring book, after tearfully insisting that we go inside and paint instead of just using crayons. Well, it's her party and she'll cry if she wants to.
Sunday was way more laid back. I slept in and went to see Lyndsay in the late afternoon. We played DDR, packed for her Disney cruise, watched the Olympics, and witnessed the most ridiculous (yet hilarious!) stuff on YouTube.
So that was my last OMGIdon'thavetimetobreathe weekend. I've done a pretty good job of spreading out the rest of my social calendar over the next two weeks, so I should be able to get back to sleeping normal hours. That is, if I ever get out of the habit of blogging at 4am.
Oh, and the haircut is scheduled for this week, so be prepared for either my Elated Hair Success Story or my Panicky Ultimate FAIL Hair Story. Let's hope for the former, shall we?