Hello, temporarily-abandoned bloglings. Sorry to have disappeared, but my dance recital is this coming Tuesday, and the week before recital is always the craziest. I'm planning to blog about it later tonight, but until then, a couple of pictures from Katrina's 21st birthday and, ou!, a reader-participation section.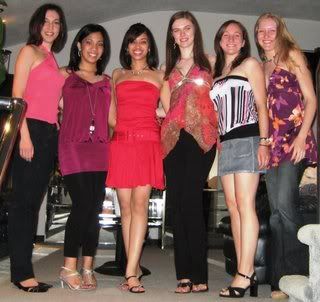 Katrina and her entourage, before heading out to the city. She's the one in the red dress; I'm to the right of her. The other girls are her before-high-school best friends.
Katrina, about two hours after arriving and just about five minutes before getting sick, passing out, falling asleep in the bathroom, and getting kicked out. She got exactly the kind of 21st birthday she wanted.
And now, dear readers, a question for you! For my aforementioned recital, I've got a solo to perform. The song is "Keep Breathing" by Ingrid Michaelson, and can be heard
here
. I decided early on that I probably wanted to wear a dress for the performance, and so during my costume-hunting mall trip yesterday, I picked up the following two dresses. They're both easy to dance in, so basically I'm just asking you,
which one do you like better?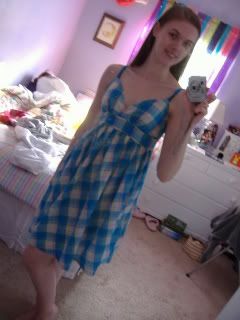 Dress Number One!
Dress Number Two!
Even if you're just an occasional reader, new reader, or any other type of blog-lurker, if you're reading this and have an opinon, please respond with your favorite! And may I remind my non-blogging friends (I'm looking at you, Dani and Nat) that you too can comment. Still feeling shy? You can even reply anonymously, if you'd like. So have at it! I'm off to assist my studio director with the non-dancing aspects of the recital.